Ready to build the brand you've always wanted?

Ready to build the brand you've always wanted?

Starting is always the hardest part. Let's start by talking about your brand and finding quick solutions. Whether you need a 30-minute clarity chat to "pick my brain" or require a full "brand-storming" session, let's figure it out together. Get unstuck and on track with a result-focused one-on-one personal coaching session.
SCHEDULE A CALL!
Want to establish your brand voice and increase your revenue? Personal development and branding is complex but essential. Go from overwhelmed creative stuck between mediocre and greatness to packaging your brand and building a profitable business. GET CLEAR ON YOUR BRAND PERSONALITY with courses designed to help creative professionals like you find clarity, brand, and win.
SIGN UP!
Are you ready to flush out and implement your ideas but could use some help? Get started, get unstuck, and take action with confidence. F.A.M.E Club is a members-only community for creative entrepreneurs that focuses on helping you find clarity, attain the fundamentals of business, master entrepreneurship, elevate and package your brand.
JOIN NOW!
Hey you! I'm Tam. I help overwhelmed creatives stuck between mediocre and exceptional package their brands and build profitable businesses.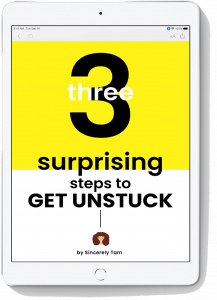 Download this FREE guide to learn three surprising steps to get unstuck and start living your best life NOW!