Bite-Sized Motivational Notes + Exclusive Talks
Bite-Sized Motivational Notes + Exclusive Talks
Are you ready to define your vision and accomplish your goals? Do you struggle with taking action? Are you ready to become more confident and take care of business? If you are working on personal development, want creative advice, tips on entrepreneurship, or need inspiration, the Sincerely HER Podcast is perfect for your personal growth journey.
The Sincerely HER Podcast provides bite-sized daily motivational notes and exclusive interviews. Each day, your host Tam (that's me!) will share some wisdom about personal development and most importantly useful knowledge that will help you on your journey through life. All this by way of bite-sized notes. This isn't an ordinary podcast. This is a podcast for those who want to find clarity, get sh*t done, and win.
Listen!
Hey you! I'm Tam. I help overwhelmed creatives stuck between mediocre and exceptional package their brands and build profitable businesses.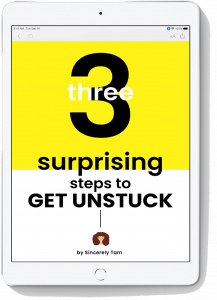 Download this FREE guide to learn three surprising steps to get unstuck and start living your best life NOW!